Guide
All-in-one education software
and agency management system.
Enroll students, manage commission and send quotes and automate your agency.
CRM & agency management
An student management system and agency CRM made for the international education sector.
Student management system and agency management system fused in one state-of-the-art CRM for the international education industry.
From lead to student in one place

Departure and visa expiring dates

Store documents and sync your email
Features to help you manage your education agency
From your website to your CRM
Your agency's website now integrated to your education agency management system. Add leads automatically and free yourself up for more important tasks.
Integration with website and blog

Create contact and visa/application forms
Email sync and student portal
Save all your students' emails directly to the agency management system. With no effort at all. Yes, that's EducationLink. Available for Gmail and Office 365.
Save emails exchanged automatically

Give student access to their own portal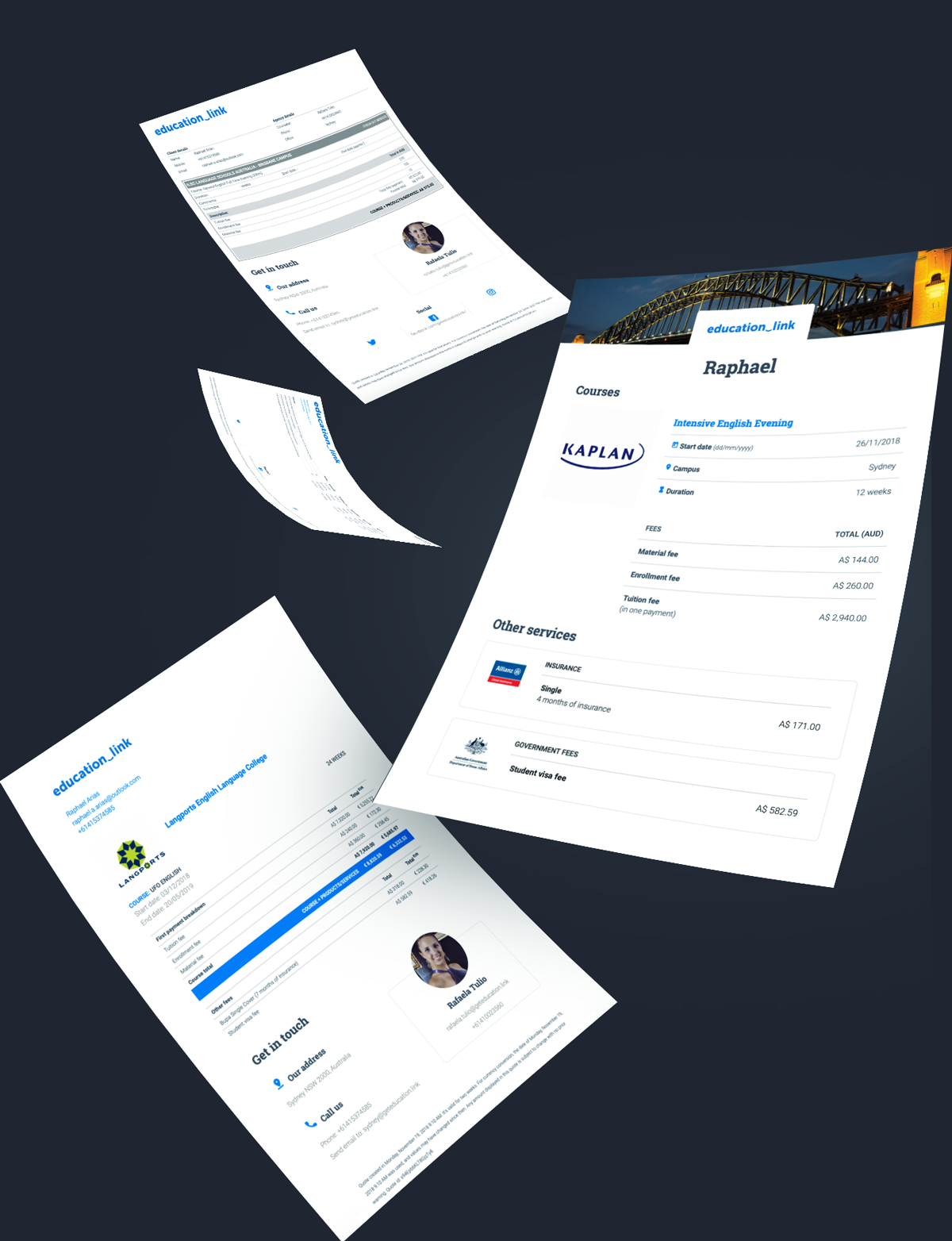 Personalized quotes

Present courses, insurance, accommodation like never before. You can customize every single detail of your quotes and marketing brochures.

Read everything about quote customization
Quotes & sales automation
Issue quotes, automate follow-ups and let the student finish their own application
Agencies can search almost 50K courses in more than 3k colleges and universities, generate quotes and then guide the student thought the course enrollment process, insurance and accommodation booking and more.
Issue your students courses quotes

Automate follow-up and back office tasks
More about international education agency automation
Enrollments via EducationLink
Start the student's application directly in your education management system. No need to go to other systems anymore or send emails.
Send enrollments, applications and bookings

Buy insurance directly from EducationLink
Enrollments and applications on EducationLink
Courses and services with up-to-date price
Both your partner colleges and you can update the prices and course information. In any case, we have a team ready to do it for you.
More than 40K courses and accommodation

More than 2.5K colleges and universities
See how EducationLink helps you with quotes
Commission & sales
Your commission automated and integrated with Xero and Quickbooks
Education agency commissioning mastered. Let EducationLink track your commission, student payments, create your invoices and control bonuses from one place.
Student payments and receipts

Commission management and invoices

Bonus and international payments
More on automatic commission management
End-to-end commission management
EducationLink is capable of generating your commission invoices automatically. Take the step further by giving them access for full transparency.
Automatic commission reminder

Education agent commission portal
See how EducationLink manage your commission invoices
Xero and Quickbooks integration
Integrate with your preferred accounting system. Have your invoices, and payments synced between your accounting software and your agency management system.
Set the preferences accordingly your workflow
Learn about education agency accounting
What if all the systems you use
were connected to your CRM?
One student CRM, limitless possibilities.
With the agency management system of EducationLink you can integrate seamlessly with your favorite tools such as Mailchimp, Xero, Gmail and more.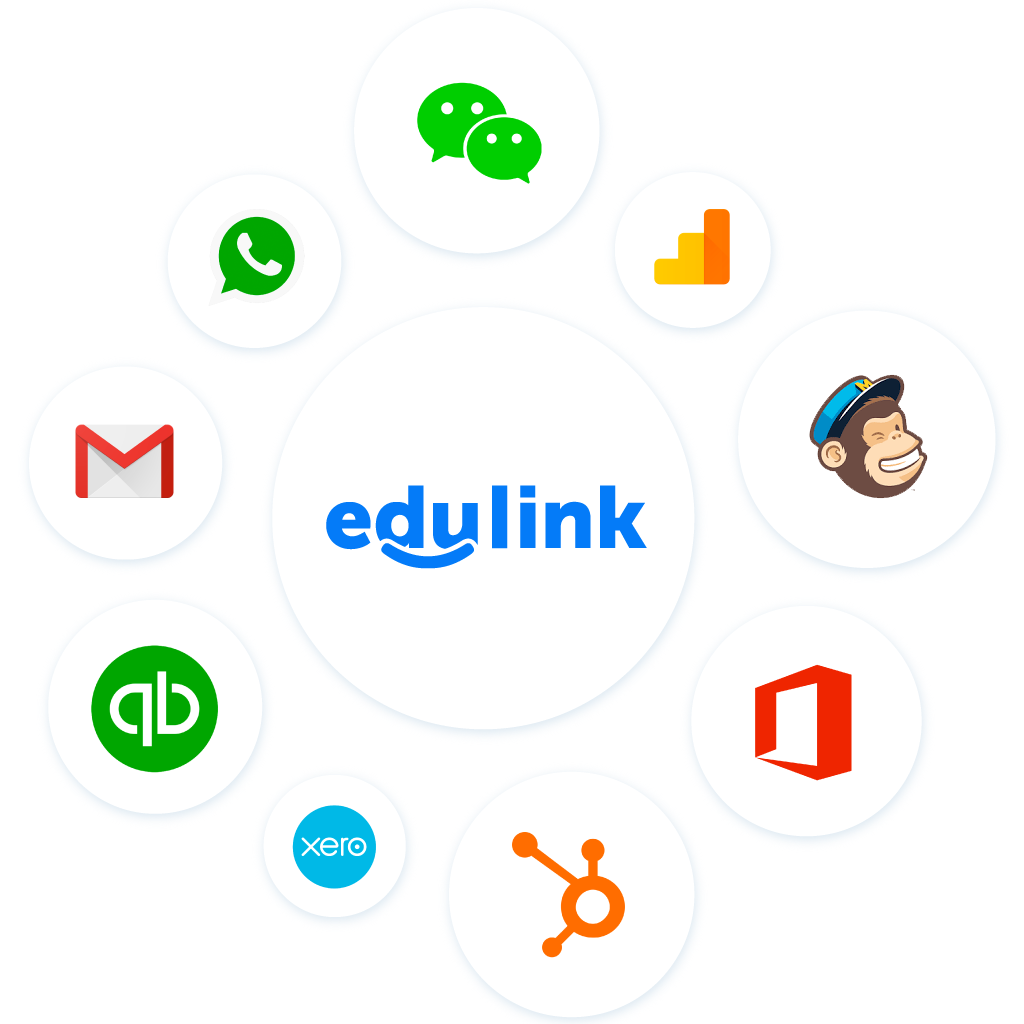 Helping your education agency and college grow
EducationLink has everything you need to help you run your international education agency or ed. provider no matter the size, from small companies to large enterprises. It's the ultimate agency management system.
Small companies

We've taken care of the special needs of your one person company or small team.
Medium size

Special features tailored to help your business establish the foundation to grow faster.
Large businesses

Manage hundreds and thousands of employees and complex highly customizable process with easy.
Easy booking and higher commission OSHC.
OSHC Express is a simplified way to compare OSHC: Bupa, Allianz, Medibank and others. And you can do everything from EduLink, the all-in-one education agency management.
Our team is ready to help
Every business is unique in its needs. EducationLink's team knows everything regarding international education industry and the challenges of running an education agency. We have the most comprehensive software for international education agency of any size and for commission management.
Training support
Unlimited training via Skype or in-person (when possible) to make sure you feel the value of our agency management system.
Industry best practices
Let us help you with the best practices of international education industry and international education agencies worldwide.
Concierge service
We help you with data migration, setup of your account and guide until you are ready to use EducationLink.
Contact our sales team
Tell us your challenges and goals and we will do our best to help. We have plenty of experience with education agency management and we can help to migrate from your education agency management system.
Or
Book a meeting