CRM & student management
for your education agency
EducationLink is the most advanced and flexible CRM for agencies. It understands what the international education industry needs.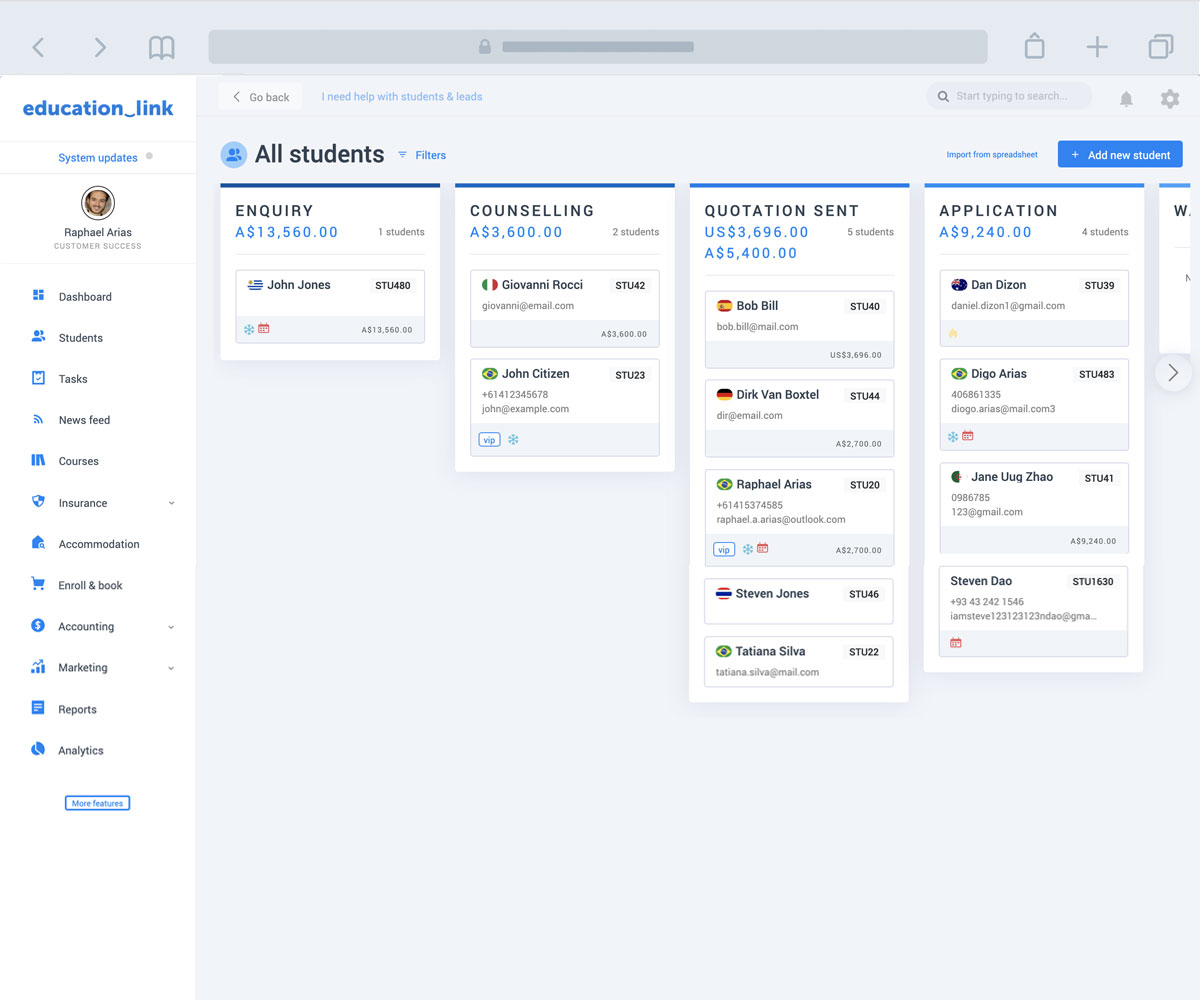 Manage your students: from lead to clients
Manage enquires directly from your site, visa expiration, air port pickup and more.
EducationLink was created to be an all-in-one student management system for international education agencies, which also integrates itself, with colleges, universities and accommodations. From small to large agencies, everything to provide a great student experience was built into the most advanced student management system developed for education agents: EducationLink.
Connect to your website

Receive leads directly within the student CRM from different sources.

Send course information

Issue quotes with more information about courses, insurance, accommodation and others.

Start the application/enrollment

Start the application to more than 3K colleges and universities worldwide.

Track payments and commission

Track all future commission in one place, with automatic invoicing.

Help your student renew their visa

Visa expiration reminders and automatic follow-ups for the win.
Learn more about creating quotes and enrolling students
Website to your own student CRM
Receive new leads directly seamless into your student CRM. No coding required. Have as many contact forms as you would like in few clicks.
Codeless integration with no technical knowledge

Create fields and customize your forms
Visa and passport expiration alerts
Automatic reminders within your student CRM about upcoming visa expiring dates, passport expiration, and airport pickups.
Customizable visa expiration alerts

Send student alert before visa expiration
Student dashboard
Give your student access to your student CRM
Go the extra mile, and let students access their own portal in our agency CRM. We've created the first student portal for internal education agencies that let them follow their enrollment, see their documents and their next payments (including payment instructions). Send them the link or integrate in your website and let the agency CRM run it for you.
See here a live student dashboard demo
A student CRM that understands how your work
An education agency's system that gives your the flexibility of working the way you prefer, always. EducationLink is fully customizable to allow you to deal with any type of process: migration agencies, tourism agencies, student agencies, onshore and offshore students, multiple enrollment methods, and more.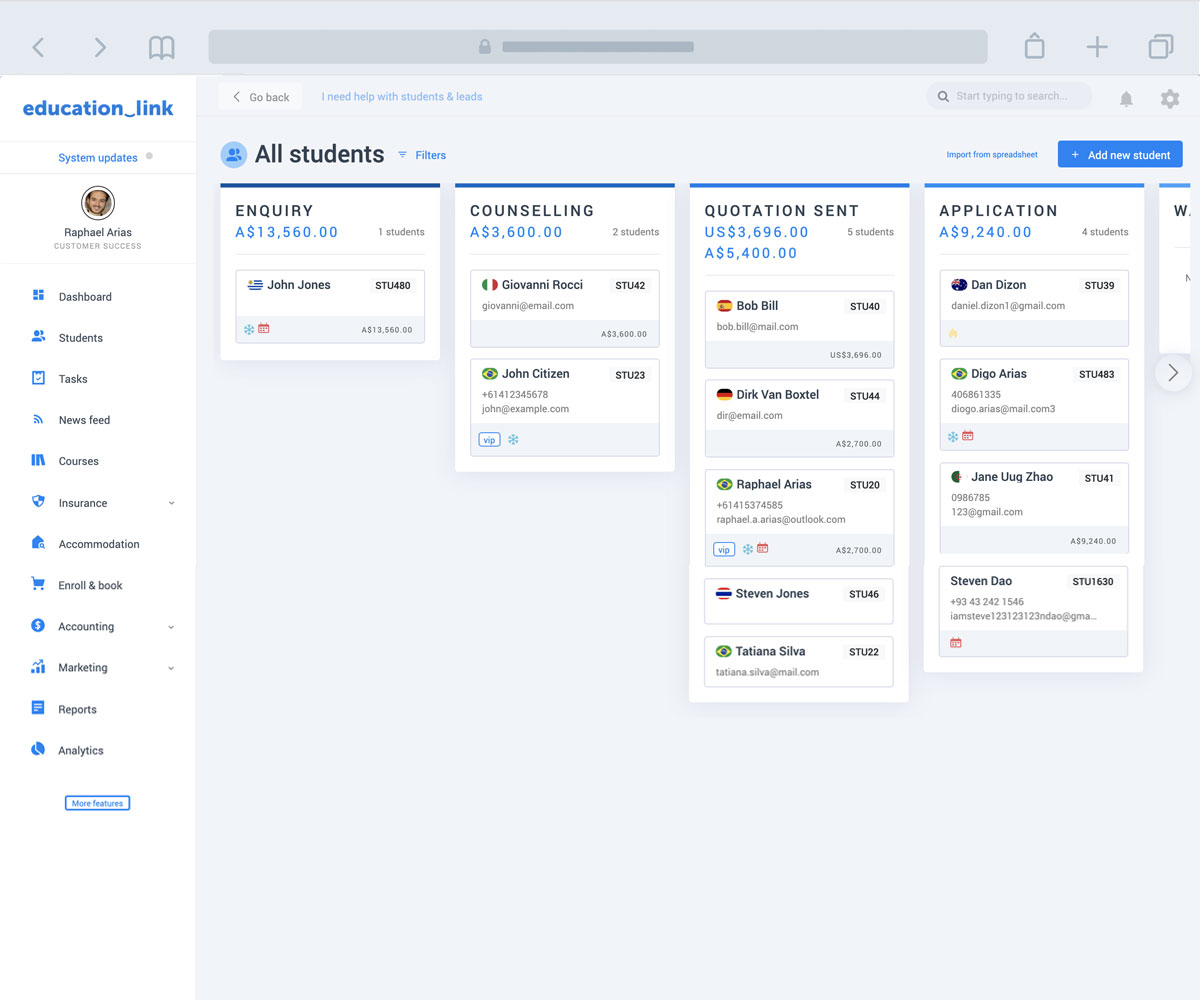 Customize the sales process your own way
Provide a great customer service by adapting your student management system to your needs. From enquire, to quotes. From application to visa, and airport pickup, track everything you care about. For education agencies to migration agencies, you can set EducationLink to work your style, not the other way around.
Drag 'n' drop to update lead status

Full customization of the sales process

Automated tasks and lead follow up
Learn more about education agency automation
Unlimited upload of students documents
Student documents stored where they should, together with their information. Faster and simpler than Google Drive or Dropbox. Unlimited cloud storage.
Drag 'n' drop to upload documents

Students can upload documents themselves
Store every email sent/received
Emails exchanged with with your sales leads can be stored directly into your international education agency CRM, forever. Send emails via the definitive student CRM.
Automatic storage of your emails with your students

Add templates to send emails quicker
Team collaboration and automatic task reminders
Automatic student follow-up reminders, and team collaboration. No more lead lost in the education agency CRM due to no follow-up.
Let your student CRM create tasks automatically for you, based on your settings and workflow.
Automatic and customizable tasks and emails

Create tasks on visa expire and application progress

Track task completion and view tasks in a calendar
Automatic task creation and follow up
Our student management system will track every installment still pending and remind you. It's also easy and fast to create follow up tasks manually or automatically.
Installment due reminders and emails

Set your own tasks to be created automatic
Task completion reports and calendar
View past, present and future tasks in the student management system at a glance. See what students have not been contacted and schedule events for your whole team.
Generate interactive reports from your CRM

Check your counsellors' work with easy
A CRM seamless integrated
Take a step further and integrate your international education agency CRM with the tools below, it's one click away.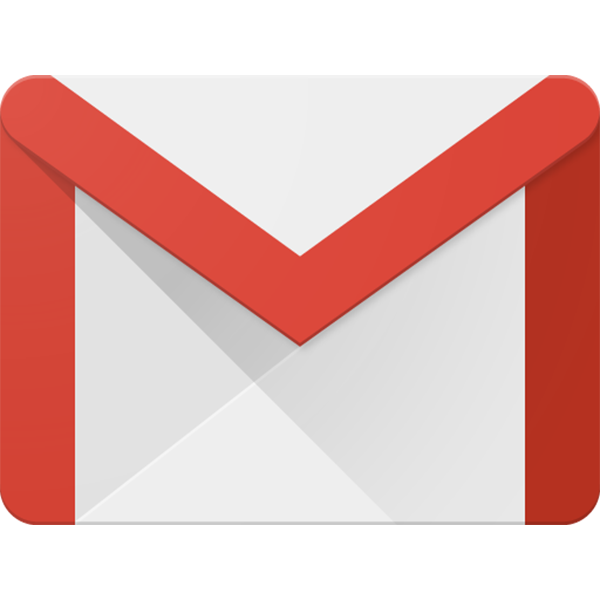 Google Gmail

Sync emails sent and received automatically. Go further, and also send emails.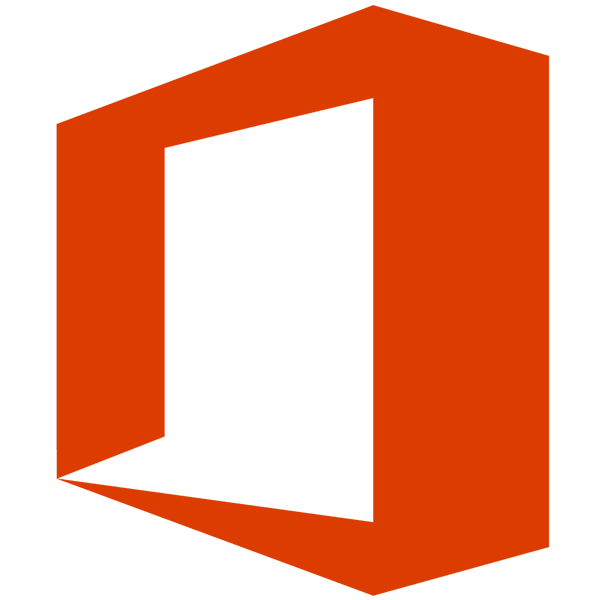 Microsoft Office 365

Send and receive emails via your Outlook account and save them on EducationLink.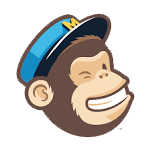 Mailchimp

Send email marketing with the information stored in the best international education agency CRM.
Our team is here to help
Let us know what you need. We are experts in all matters of education agencies, agency CRM and student management system.
Training support
We provide unlimited training via Skype or in-person (when possible) to make sure you feel the value of EducationLink in your day-to-day.
Industry best practices
Let us help you with the best practices of the most successful agencies and colleges in the industry.
Concierge service
We help you with data migration, setup of your account and guide until you are ready to use EducationLink.
Contact our education agencies sales team
We're specialists in everything about education agencies, student CRM and international education.
Or
Book a meeting