Coming from the banking sector, our management team knows that security is something to be taken seriously.
EducationLink applies industry best practices and more to protect your data.

Beyond protecting our servers, database and software, we protect you all the way to your browser. Every time you access EducationLink (including this website) we use firewalls, route optimization, encryption, and smart rules to protect the connection between your computer and us.

Here's how we do it (comparing to other softwares):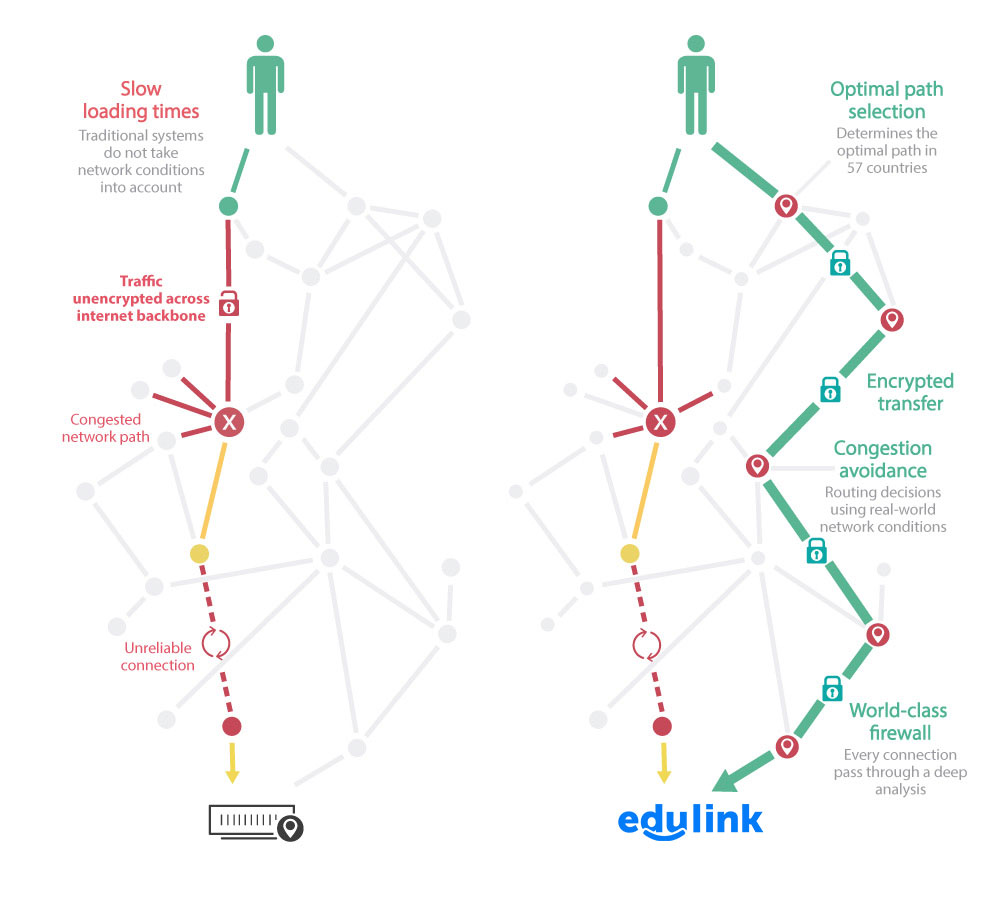 We've got you covered.
Some examples of our security measures.
Here there are some examples of how we are 24/7 preventing unauthorized access to your data, even before you reach our servers.
DNS spoofing
We use DNSSEC which allows us to use cryptographic signatures to make sure when you type geteducation.link in your browser you're always accessing EducationLink, not a fraudulent website.
Snooping of data in-transit
We encrypt all communication between your computer and our servers, otherwise attackers could intercept or "snoop" on unencrypted connections. We make sure that does not matter the device or connection, you're protected.
Brute force login attempts
Attackers can try to login into your account with automated bots. These bots attempt to login thousands times per minute. We've put in measure quite a few protections so you can use your account knowing it's always safe and fast.
Malicious payload exploits
Attackers can exploit vulnerabilities though malicious payloads. We have a powerful, always-learning and automatic firewall to block unsolicited traffic to EducationLink. We're constantly monitoring our systems.
Learn more about privacy
Learn more how EducationLink handles your data and about our Privacy Policy.
Learn more
Learn more about security
Learn what we use and do to keep your data safe in our servers across the globe.
Learn more